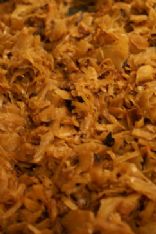 Don't know what to do with that extra head of cabbage you bought for making Corned Beef and Cabbage for St. Patrick's Day? Here's a recipe that I tried courtesy of Chef Tina Nordström and it is both inexpensive and delicious! The sweet & sour taste is both lovely and refreshing!
In Scandinavia, she says they call it "Brown Cabbage" and it is always served during the holiday season.
Cabbage is almost always selling at an inexpensive price usually a couple of cents per pound and other than turning it into fresh coleslaw or stuffing it with ground meat and simmering it in tomato sauce (that's a recipe I'll save for another time for you all), try this recipe as a side dish with a roast meat. Most of the ingredients you should have already in your well stocked pantry.
Ingredients for serving 8 persons


1 head green cabbage
1 finely chopped onion
1 cup apple juice
1/2 cup balsamic vinegar
2 cinnamon sticks
1/4 cup light corn syrup or honey
Butter and oil
Salt and pepper

This is how you do it...

Heat a large sauté pan and add 2 tablespoons butter and 1/4 cup oil. Slice the cabbage thinly and sauté over medium heat together with the onion for a couple of minutes. Mix in the apple juice, balsamic vinegar, cinnamon sticks and syrup. Cover and let simmer until the cabbage softens. This will take about 15 minutes.
Remove the lid and season with salt and pepper.